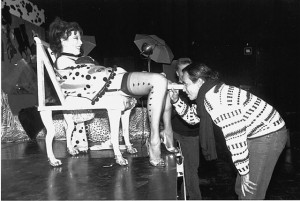 Mutantes: Punk Porn Feminism (Virginie Despentes, 2009, France, 85min)
Punk Porn Feminism is a queer feminist documentary that tells the radical pro-sex work and pro-porn stories of 1990s and 2000s sex workers, porn stars, queer and feminist theorist, queercore/punk musicians, and post-pornography producers.
The film is a familiar style. Images of porn, sex work or rather promiscuous street behavior, and live music were interspersed with testimonies from different professionals, workers, and creators. When someone was not talking, there was usually a montage of different clips or a scattered view, which felt edited like montage, of some explicit sexual act.
The main purpose of the documentary is to shed light on the lives of sex workers and how despite most of 2nd wave feminist thought, their work is in fact radically feminist and sexually liberating. This form of radical feminism is first proved by older/retired sex-workers and then by punk music. It then transitions to the combination of the two: punk porn or post-pornography. This queering of pornography has allowed for a new wave of pornographic filmmakers who have created their own channels of "fetish porn" that was otherwise unpublished for not being palatable (aka heterosexual, cis-gendered, and male-focused). What truly tied the whole film together were the academics, who were verified by the montage of different books they had written, who brought truth value to the radical, shocking nature of the film.
Bibliography
Schaal, M. (2016). Bridging Feminist Waves: Wendy Delorme's Insurrections! En territoire sexuel. Rocky Mountain Review, 70(2), 175-196. Retrieved from http://www.jstor.org/stable/rockmounrevi.70.2.175
Gregory, T., & Lorange, A. (2018). Teaching post-pornography. Cultural Studies Review, 24(1), 137-149. doi: http://dx.doi.org/10.5130/csrv24i1.5303
Peter Rehberg (2019) More than vanilla sex: reading gay post-pornography with affect theory and psychoanalysis, Porn Studies, 6:1, 114-128, DOI: 10.1080/23268743.2018.1559088
Kanopy Link: https://swarthmore.kanopy.com/video/mutantes-punk-porn-feminism