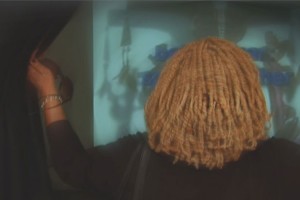 (Spirits of Rebellion, Zeinabu Davis, 2017)
Zeinabu Davis, director of Spirits of Rebellion, was one of the black filmmakers and media artists known as the Los Angeles Rebellion. In this documentary, Davis chronicles the work of her cohort, and the greater context that facilitated the LA Rebellion– even tracing back to the origin of the term "LA Rebellion". She and D. Andy Rice combine interviews with LA Rebellion filmmakers, clips from their films, pictures and footage from their at UCLA, and narration. Davis' narration acts less as a source of truth and more as another interview, weighed equally to those on-screen.
We hear in-depth about the experiences of this cohort of filmmakers at UCLA, highlighting Teshome Gabriel as a mentor instrumental to this artistic moment. After Gabriel's passing, Davis realized that she wanted to uplift the contributions of her mentors and peers while they were still here, inspiring her to create this documentary. Filmmakers such as Julie Dash, Jamaa Fanaka, Charles Burnett, and Alile Sharon Larkin were interviewed about their work and their experiences in the film industry. While these interviews touch on how the white film industry has denied these filmmakers access — Haile Gerima notes  "white kids graduated to an industry, we graduated to a desert"– the way that Black communities showed up to support Black film is highlighted. For example, while chains like Blockbuster showed no interest in distributing films Gerima's Sankofa, Black bookstores across the country would sell the film on home video.
Spirits of Rebellion is both an informative historical documentary on LA Rebellion filmmakers, and a documentary discussing the formal and artistic elements of LA Rebellion film. Just as the filmmakers of the LA Rebellion worked to teach and inspire young Black filmmakers with their work, Davis' documentary is also instructive and inspiring.
For more information on the LA Rebellion:
L.A. Rebellion: Creating a New Black Cinema, Allyson Nadia Field, Jan-Christopher Horak, Jacqueline Najuma Stewart (tripod, jstor)
(Eva Logan '22)