Directed by Iben Haahr Andersen and Mina Grooss. Denmark, 2009. 52 mins.
This 52-minute documentary discusses the experiences of lesbian women and couples in Denmark. The film contains interviews with each of its subjects wherein they discuss everything from social perceptions of lesbianism in the 1950's to the sexual liberation of Denmark as a whole to sex toys. The documentary is narrowly focused on lesbians–it does not discuss bisexuals or other queer women. Goddag, mit navn er Lesbisk contains a considerable amount of nudity and sexual content. Almost all of the couples interviewed in the film neatly fit into the stereotypical butch/femme dichotomy that codes lesbianism as heteronormative, though some of the couples acknowledge this stringent categorization as problematic in queer communities and society as a whole. The documentary spends a long time discussing misandrist radical feminist movements and phallophobic lesbian collectives without necessarily addressing that both of these groups make up very small, if at times loud, extremist sectors of the lesbian community. Stylistically, the film includes surrealist animated segments that function as transitions between interviews and subject matter and metaphorical representations of what the voiceover is saying. Thirty-seven minutes into the film, the matter of public perception of lesbian couples is discussed. This issue is key in queer female communities; many female/female relationships are perceived through hetero-lens as strong female friendships when in reality these are romantic and/or sexual relationships.
Related article: http://www.kinseyinstitute.org/ccies/dk.php#homoerot
Especially sections 6 & 7 on hetero-, homo-, and bisexuality, gender and transgenderism.
Screenshot from the film, including an animation to represent gender roles: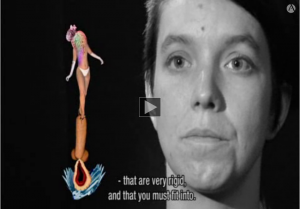 (source: http://search.alexanderstreet.com/view/work/bibliographic_entity%7Cvideo_work%7C2374360/hello-my-name-lesbian, screenshot by Kemmer Cope)