Filmmaker: Su Friedrich
Year: 2013
Country of Origin: USA
Running Time: 1hr 21min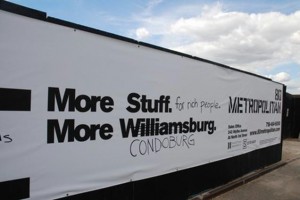 Gut Renovation, an Audience Award winner at the 2012 Brooklyn Film Festival, had a week-long theatrical release at Manhattan's Film Forum. The film documents the recent story of Williamsburg. In 2005, city council passed a rezoning of the neighborhood, which opened the door to rapid gentrification. Developers flooded in, setting off a frantic real estate boom that pushed out locals. Su Friedrich's film is a personal essay, antagonistic and cranky. She has reason to be upset – after living for nearly 20 years in a multi-ethnic, working-class neighborhood and artists' enclave, she became one of many facing displacement. In Gut Renovation, we see her turn her camera to the changes happening around her.
Friedrich unfortunately gives only the briefest of head nods to actual community pushback (one scene shows a neighborhood meeting). The rest of the film, she resigns herself to a mapping project. A blown-up map of an area 6 blocks wide and 17 blocks long shows us the impact of the rezoning in detail; Friedrich marks off new developments under construction with a red marker. She counts them off one-by-one; by the end of year five the number hits 173. These periodic stop-motion shots are set to the relentless staccato of a drill breaking ground, and reveal the pace of the changes. In-between, Friedrich rants and complains. She yells out her window at men in suits, points her camera at yuppie newcomers with shopping bags and expensive dogs, skeptically cross-examines brokers, and swipes a bottle of wine from the opening party of an expensive loft party.
In one of the stronger devices of the film, extreme close-up stills of attractive young people having fun zoom out and reveal themselves to be branded representations of the neighborhood. Friedrich is right to point her camera at the aggressive ad campaigns, the face of real estate interests, and glossy counterpart to the noise and chaos of demolition and construction. Shaky handheld footage gives us a peek into luxury condo showrooms, where promotional videos announce "Panoramic city views, only one step from Manhattan!" and "18 floors up, a place you'll love to live, above it all." Meanwhile, below it all, mom-and-pops facing eviction are forced to pack up shop. In a few remorseful interviews, local butchers and bus mechanics lament their situation; they've either been priced out of the neighborhood or asked to leave by landlords making the switch from commercial to residential. Friedrich composes a sing-songy abecedarium of local industries pushed out, a sad ode to the neighborhood that once was.
Su Friedrich's prior films have won many awards, ranging from Outstanding Documentary Award at Outfest and Best Narrative Film at the Athens International Film Festival to Grand Prix at the Melbourne Film Festival.
Anjali Cadambi 2013
Gut Renovation Trailer: http://www.youtube.com/watch?v=y9RLXUb8gn8
Film's IMDb Page: http://www.imdb.com/title/tt2368897/
Film's Page on Outcast Films: http://www.outcast-films.com/films/gut/
Director's Website: http://www.sufriedrich.com/
Director's IMDb Page: http://www.imdb.com/name/nm0295453/?ref_=tt_ov_dr

Reviews
[1] For Good or Bad, Watching Williamsburg's Transformation – NYTimes.com
[2] Gut Renovation – Movies – Film Forum
[3] 'Gut Renovation,' Su Friedrich's Look at Gentrification – NYTimes.com
[4] Gut Renovation Whines at Williamsburg's Newer Residents – Movies – New York – Village Voice
[5] 'Gut Renovation' movie review – NYPOST.com
[6] Su Friedrich on Gut Renovation | Filmmaker Magazine