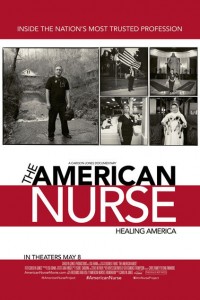 The American Nurse: Healing America is an American documentary directed by Carolyn Jones as part of a larger project covering American nurses. The American Nurse project, started in 2011, is a collection of photographs, short video interviews, and this film. The purpose of the project is to "meet nurses all across the country and hear their stories and give them a voice", according to Jones. The collection of short interviews (most are about 1 minute long) and the book were both published in 2012, with the film the final chapter of the project.
The film looks into the day to day activities of 5 American nurses: Jason Short, Sister Stephen, Brian McMillion, Tonia Faust, and Naomi Cross. The nurses all work in very different environments ranging from the middle of nowhere in the Appalachians to a hospital in Baltimore, MD. Jones shows us the private and public lives of these nurses in an effort to give them more of a voice when a lot of the times these nurses come in and out of patients room without sharing much of their lives. Jones, who begins the film explaining that at first she thought nurses were just nurses until she had breast cancer, isn't a main character in the documentary, choosing instead to focus the attention of the film onto the nurses. It's rare to hear her voice at all. The documentary takes us through the joys and pains of being a nurse, and is a great look into a world that many of us are not aware of. Instead of being simply medical professionals who do their job robotically with no emotion, The American Nurse shows us that nurses are humans like everyone else, and that they feel for their patients as anyone else.
American Nurses is a great tribute to the men and women who work hard everyday to help their patients through difficult times. Jones' film is a must watch for anyone interested in hearing about nurses in the United States.
NYT Review: http://www.nytimes.com/2014/05/16/movies/the-american-nurse-documentary-focuses-on-five.html
Hollywood Reporter Review: http://www.hollywoodreporter.com/review/american-nurse-film-review-701975