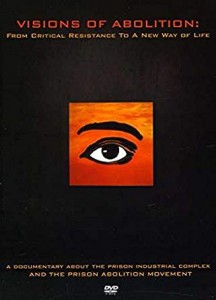 (image from amazon.com)
This two part documentary was designed by activists and community organizers directly impacted by the violence of incarceration, as a tool to educate communities about the prison industrial complex and the prison abolition movement in the United States.
Part one, "Breaking down the Prison Industrial Complex," provides a critique of mass incarceration, tracing its history to the war on drugs and its roots in slavery and capitalism. It "weaves together the voices of women caught in the criminal justice system, and leading scholars of prison abolition, examining the racial and gendered violence of the prison system" (visionsofabolition.org). Part two, "Abolition: Past, Present & Future," discusses examples of prison abolitionist ideologies and frameworks in practice. Visions of Abolition features interviews with scholars, activists, and previously incarcerated women, including Angela Y. Davis, Ruth Wilson Gilmore, Susan Burton, Melissa Burch, Dylan Rodriguez, and Andrea Smith. 
Importantly, Visions of Abolition was not made by trained filmmakers, nor was it made with the specific intention of creating a film. It began as a community research project with LEAD (a branch of a grassroots organization called Critical Resistance), wherein interns interviewed people about their experiences with the prison industrial complex. It was then made into a full length documentary by student activists at UC Riverside, who determined that documentary would be the most effective way to synthesize and present information about the cause for which they were advocating. Thus, rather than an artistic or creative endeavour, documentary as a form was seen by these directors as a means to an end–a tool for the goal of political education. 
Since the documentary was released in 2013, women have become the fastest growing group in the US prison population, and it has been reported that between 70 and 90% of people incarcerated within women's prisons have experienced sexual and/or domestic violence prior to being incarcerated.
Bibliographic item: https://survivedandpunished.org/
This bibliographic item is the website for a prison abolitionist group called Survived and Punished, which focuses on ending the criminalization of survivors of sexual and domestic violence and abolishing all forms of gender violence. The group has a nuanced analysis of the ways the Carceral State perpetuates gender violence, criminalizes survivors, and relegates people to places where gender violence is routinized and state sanctioned (prisons, jails, and detention centers). The website contains many toolkits, curricula, publications, projects, and resources. It can help elaborate on and complicate the documentary's discussion of the ways in which the Carceral State perpetuates gender violence and has more up to date statistics and resources.