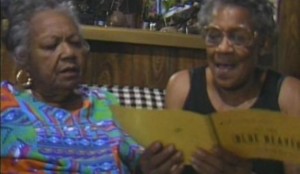 Tiny and Ruby: Hell Divin' Women is a documentary tribute to the lives of jazz musicians Ernestine "Tiny" Davis and Ruby Lucas, including their forty year romantic partnership.  The ladies' careers were so prolific that after a few minutes, they begin to sound like myths.  Tiny started her own all-female jazz band and travelled around the country playing before she turned 30.  Ruby was on Louis Armstrong's very good side, and played at least three different instruments in countless bands (including Tiny's).  Together, they cultivated "Tiny and Ruby's Gay Spot", a queer club in Chicago; one of few safe spaces for queer people at that time in the city.  These ladies have lived well and authentically, and director Greta Schiller doesn't skimp on their accomplishments.
But Hell Divin' Women is more than jazz history and lively vintage footage. It weaves the public with the private beautifully, featuring rare musical recordings, home videos, off-the-cuff interviews with the couple, publicity photos, and narrative poetry by Cheryl Clarke.  The result is a nostalgic and intimately fresh approach to historical documentary with some good laughs too. Ruby and Tiny are hilarious.  They know who they are; it seems like Greta Schiller does, too.
Unfortunately, there isn't a ton of scholarly materials on the film, but I personally found the film's references to 1950s queer Chicago subculture fascinating, such as the couple's famous club in the South Side. This Chicago Encyclopedia entry details more about the highly intersectional history of gays and lesbians in the city.
The third and fourth paragraphs relate specifically to the black gay and lesbian community that formed the South Side during the Great Migration, which Tiny and Ruby largely contributed to.  Strangely, their bar is not mentioned.